I have been on quite the HGTV/DIY kick lately after spending the summer renovating our home.  I will be sharing some before and after photos from the summer in different posts to share ideas with everyone!  After this past summer I was inspired to seek out any DIY opportunities.  I spent the holidays with my parents and when I walked into their house my heart beamed with visions of all sorts of potential makeovers to their home.  After a little bit of thought, the easiest thing for me to tackle in the short amount of time was the guest bathroom.  They pretty much had builder grade everything.  Horrible "Holllywood Style" strip lighting, dated decor, worn down cabinetry, old fixtures and a plain worn out frameless mirror.  In addition, they were badly in need of some fresh paint.  With only a week to work I quickly brainstormed on the things I needed to buy which included the following:
Behr Marquee Paint in Eggshell Finish (Manhattan Mist) for walls 1Gal $41.98
Behr Premium Plus in Satin Finish Exterior Paint for cabinets 1QT (White) $17.98
Paint Supplies – Canvas Drop Cloth, Frog Tape, 180 Grit Sand Block ~$22
Brushes & Roller Kits – ~$22
New Cabinet Knobs – 3 @ $2.98
Hampton Bay 3-Light Brushed Nickel Lighting Bar $39.97
Glacier Bay 18 Inch Towel Bar Brushed Nickel $16.98
Glacier Bay Toilet Paper Holder $15.98
Wall Decor from Kohls – $14
Here are some before photos.  I wish I took more photos but I actually wasn't planning on documenting it however the results turned out so well I wanted to share what I did!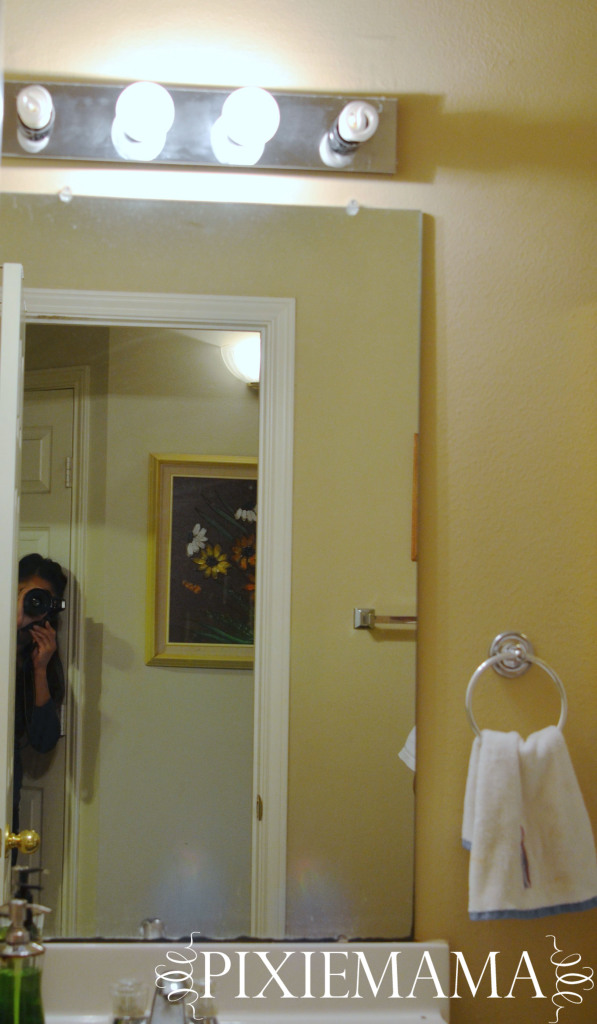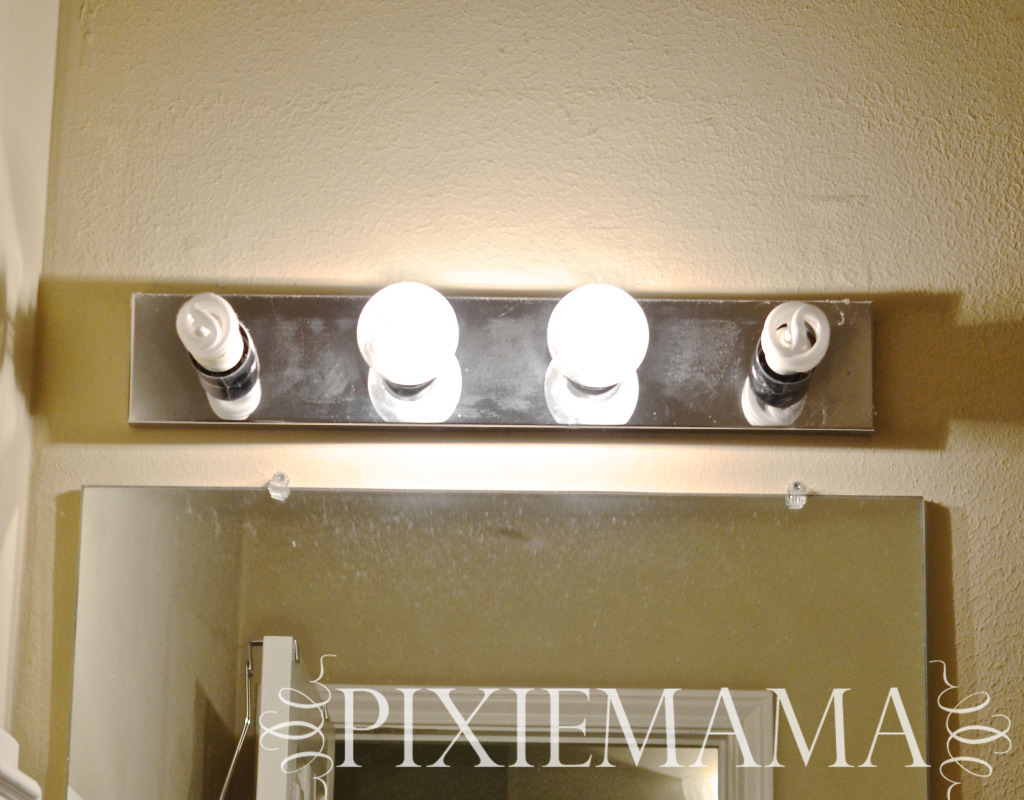 Oh yeah..lovely Hollywood Bar lighting with mismatched CFL bulbs lol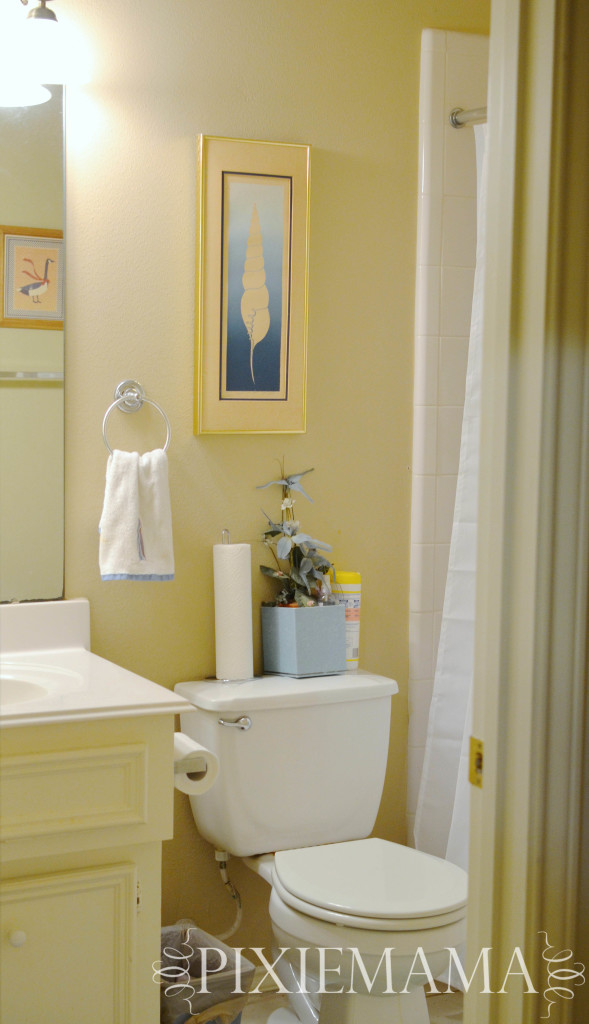 Sad Dreary Wall Color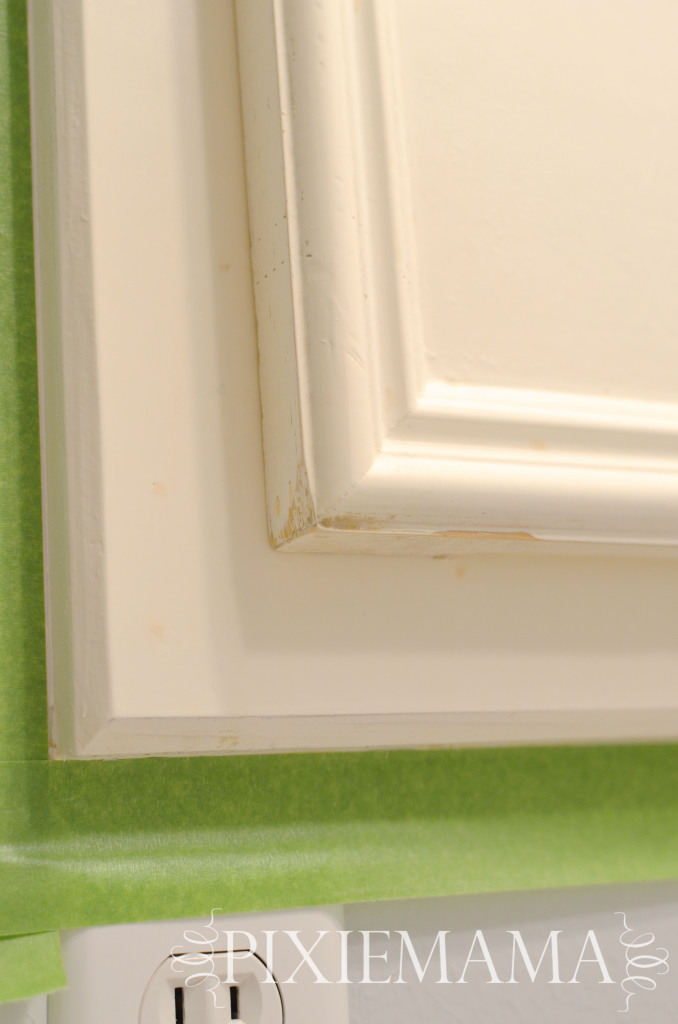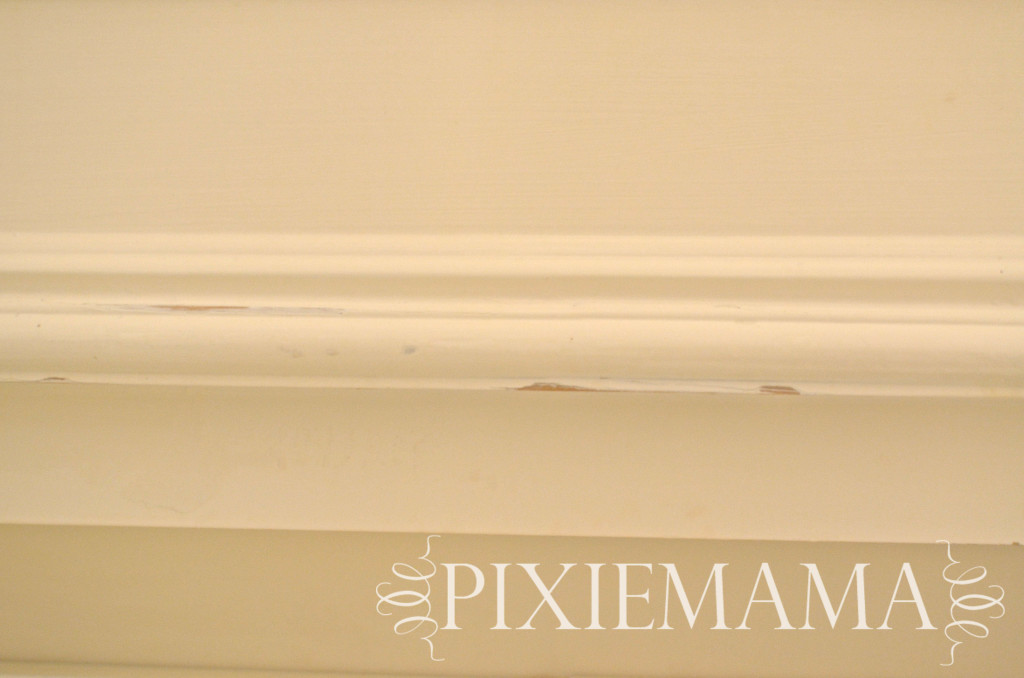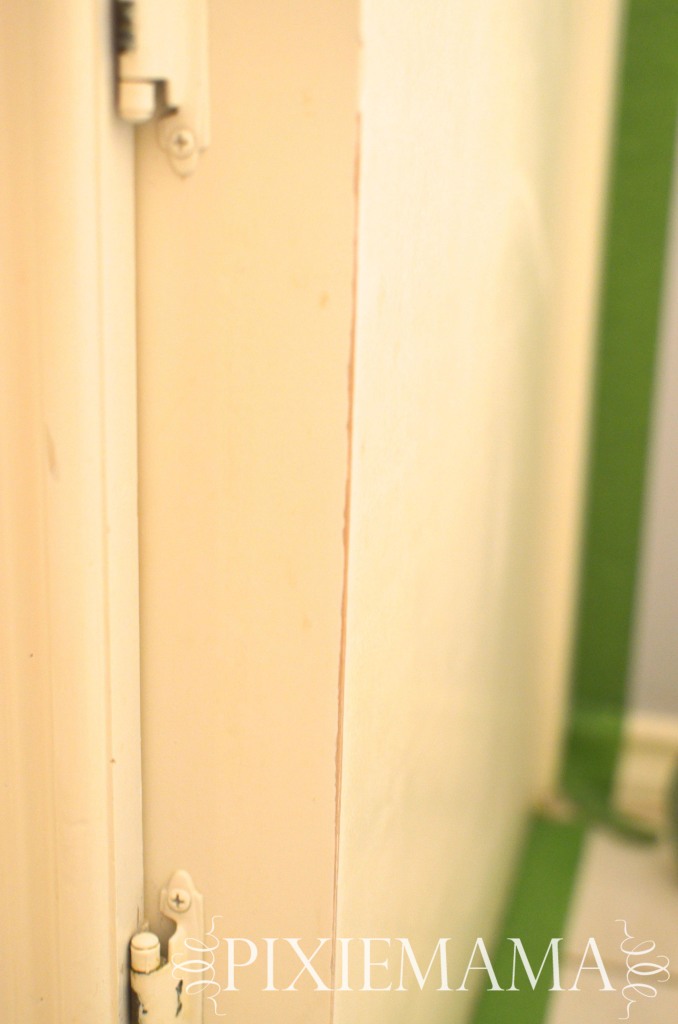 Worn cabinetry begging to be painted
Before I started any of the work I had to clean out the bathroom.  This included scrubbing the baseboards and cabinetry.  As well, I took a dry swiffer duster and wiped the walls and corners to make sure I wouldn't be painting over any dirt or dust.  Once that was done I went on to tackle the lighting.  Seeing that it was my first time I was admittedly a little nervous to change out the light fixture, however, I watched enough DIY videos on it and found some detailed blog posts that helped me gain the confidence to change it out.  I found this post very detailed and useful on Prettyhandygirls blog:
http://www.prettyhandygirl.com/changing-out-a-light-fixture-bye-bye-hollywood-strip-light/
Please note, I will not be held responsible for any damage involved from you changing out your light fixture.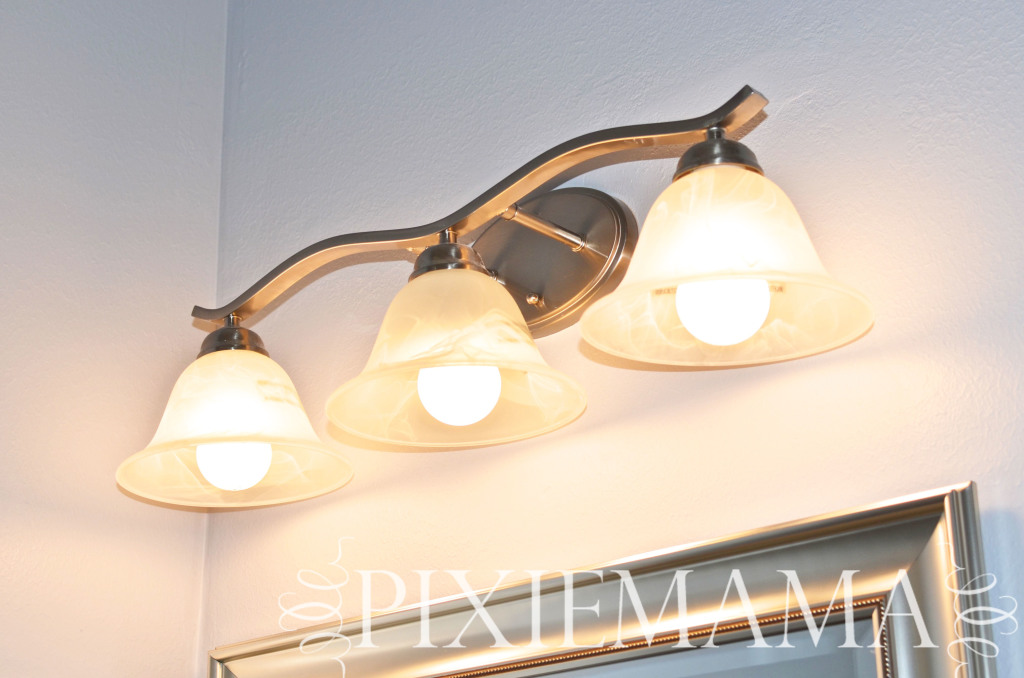 After I changed out the fixture it immediately made a world of difference!  I am such a lighting person, I can't stand fluorescent lighting.  I love dimmer switches and the ability to add and subtract lighting in order to match your mood.
I went onto taping up and painting the walls in Manhattan Mist by Behr.  I specifically chose the Marquee line because it has been advertised as a one coat only paint and I really didn't feel like dealing with painting a second coat, the extra cost was worth it to me.  And by the way, it really lived up to the one coat only promise!  I do have to warn you, when choosing a paint color you need to consider the lighting that you're looking at it in when you're making your decision.  I was at Home Depot when I was choosing the color and they had fluorescent lighting that made the color I chose to appear more gray, however, under incandescent lighting it looked a more blue.  Either way, I loved the new color.  If you haven't noticed blues and grays have been really big in home design colors as they tend to give off a relaxing and soothing feeling.
After that, I ventured off and found a silver framed mirror from Target for $39, it gave the bathroom a clean an elegant look.  I must admit that I am partial to sparkle and shine so the clean silver mirror appealed to me as it is really my style.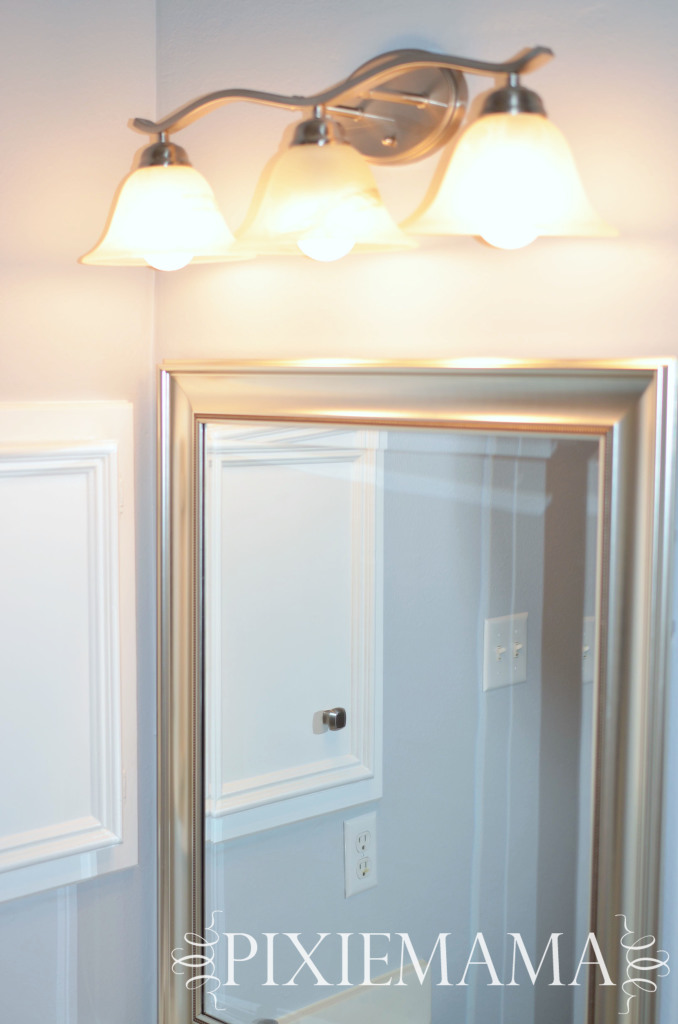 I then moved onto painting the cabinets.  I went back and forth for a while on what color I wanted to paint it.  I first chose white, then thought about gray or black.  The cabinets were MDF so the option of sanding them down and gel staining them wasn't an option in my mind. There is no natural light in this bathroom so I wanted to keep everything light and airy so I ended up going with white.  When I was at Home Depot at the paint department I asked the paint guy what kind of paint he recommended for bathroom cabinetry and he suggested using Behr Exterior paint which is an enamel based paint that is supposed to hold up well under moist conditions.  I made a choice to go with a satin finish because I personally don't like high sheen on wood.  Before I painted, I used Clorox Bleach Gel Spray to thoroughly clean the cabinets of any grime and dust.  After that I used a 180 grit sand block to smooth out any chips on the cabinets.  I used a Wooster paint brush for the cracks and crevices and a small foam roller to smooth out any streaks and paint the flat surfaces.  I was pleasantly surprised on how awesome the cabinets turned out.  I added new knobs and voila, the looked like brand new cabinets!  I changed out the towel bar and toilet paper holder and the bathroom was almost complete.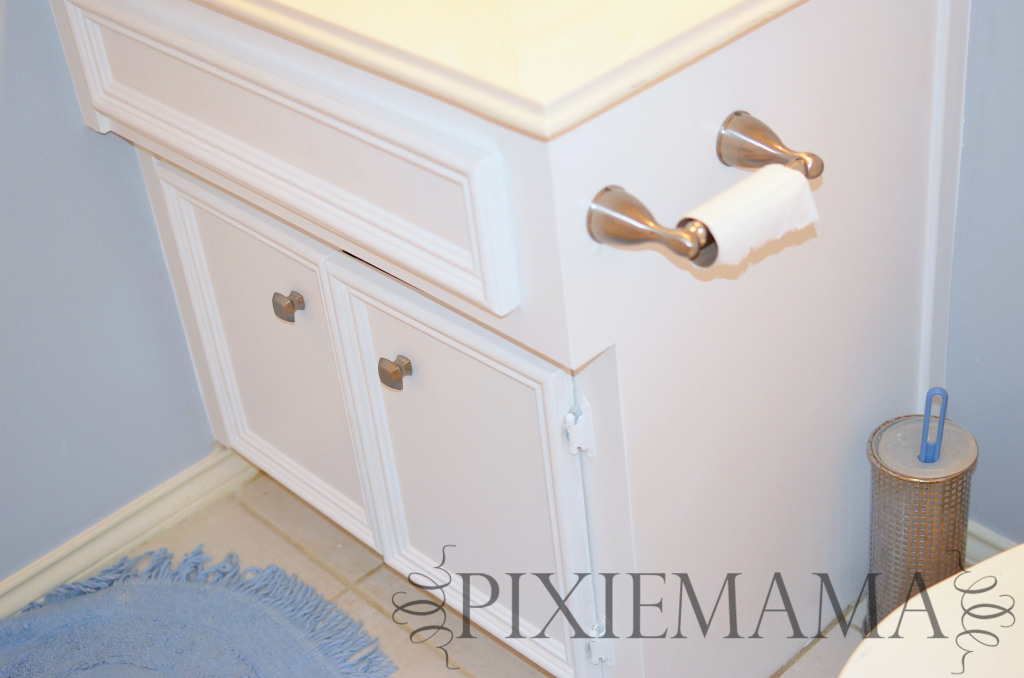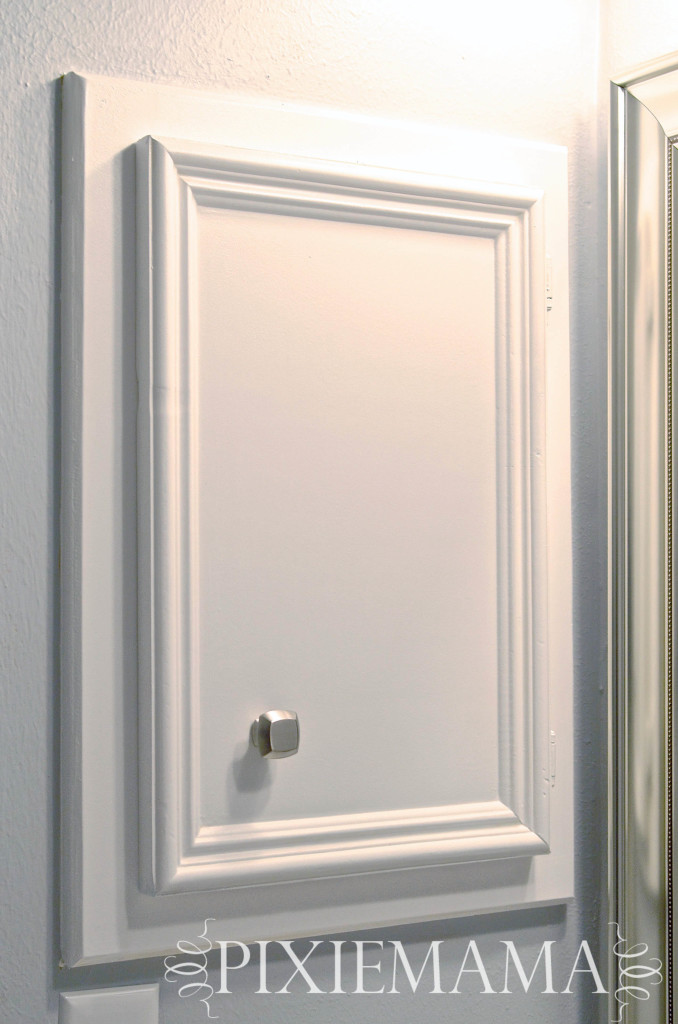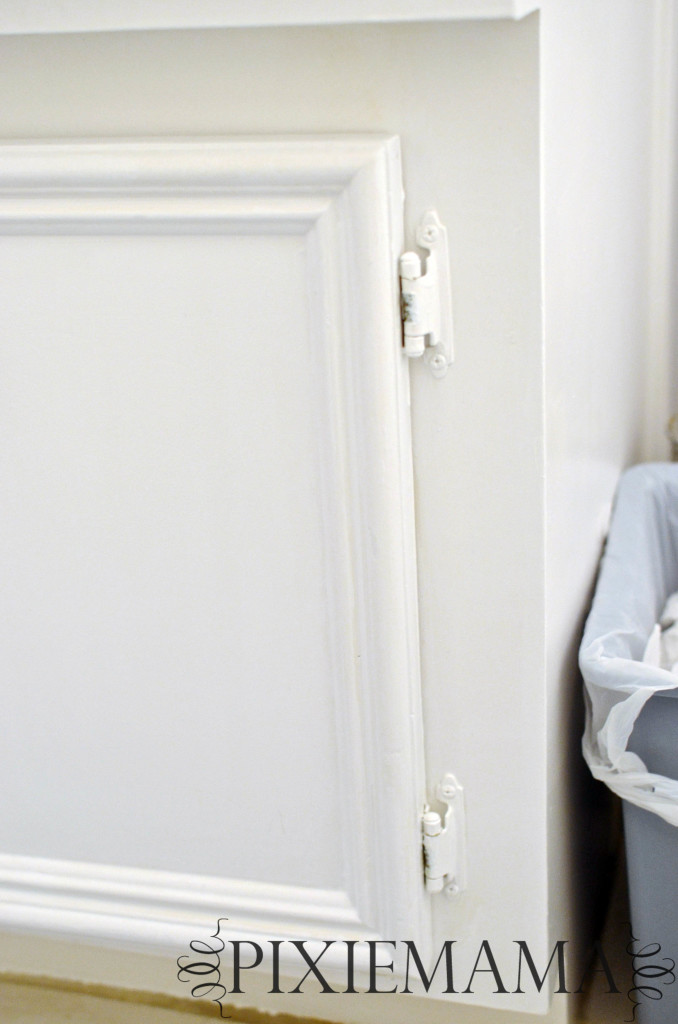 The last finishing touch was to find some wall decor.  I've been in love with these square Moroccan style frames and found a good deal at Kohl's so I snagged them and hung them right up!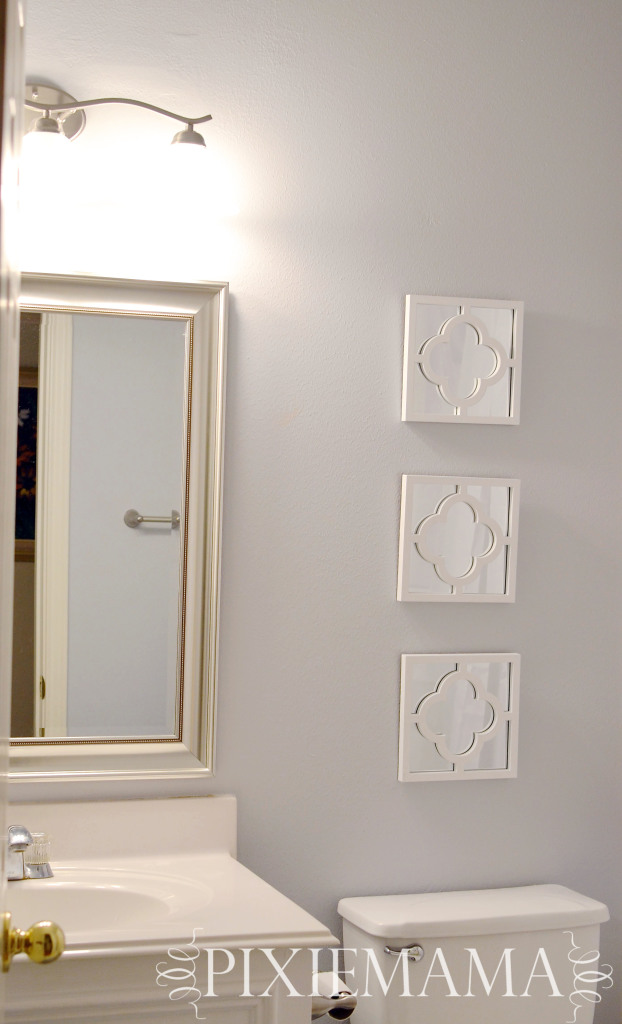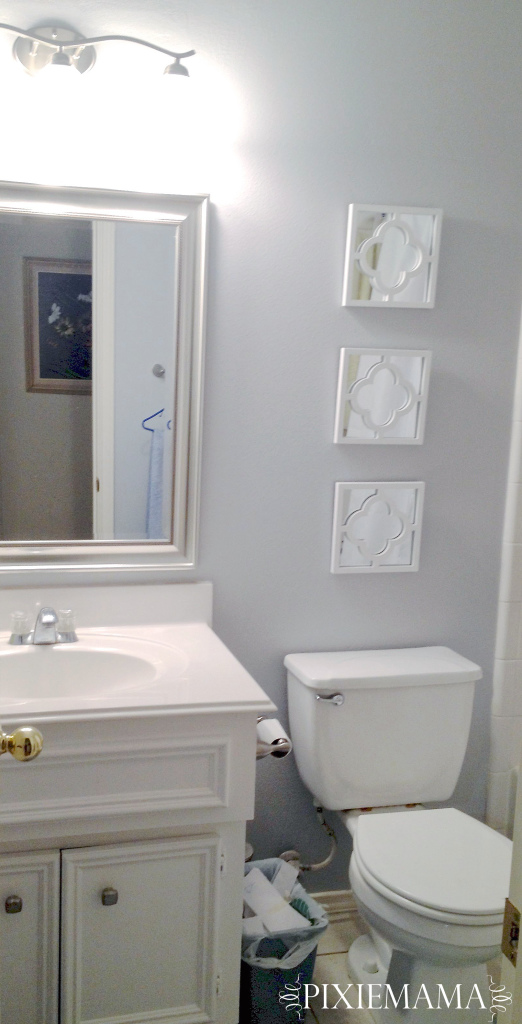 I was pretty happy with the outcome and so was my mom!  I was planning on changing out the faucet but we ran out of time.  Have you done any recent DIY makeovers?  Let me know in the comments below!