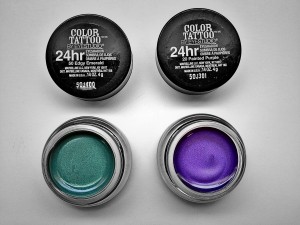 Is it me or does Maybelline keep on outdoing themselves lately?  It seems like they have been coming out with some fabulous colors and products.  I told myself I didn't need any more of these, however I stumbled upon some Rite Aid reward dollars and Maybelline had a Buy One Get One half off sale.  I couldn't resist plus I had heard so much about these jewel toned colors that I couldn't help myself.
The colors that I picked up were Edgy Emerald and Painted Purple.  Both of these colors were very creamy and the emerald color  surprisingly had more of a metallic "pop" to it than it looks in the pot.  The color payoff on these speaks for itself.  I applied the color tattoo to my eyelids with my fingers, however, later I realized that I probably would have gotten a more even and dense application had I used a synthetic brush.  I did not apply any shadow over the purple color I used in the picture below.
They came out with a limited edition fall line recently, however, I did see those at Walgreens and I held off from purchasing any.  Check out these lovelies, the colors are gorgeous and intense.  Have you tried any of these and if so which colors are your favorites?