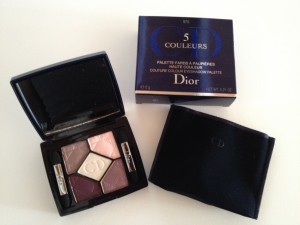 I received my Dior palette in the mail yesterday and I opened it up and marveled at it for a little bit.  I don't know, there's something so luxurious about Dior.  This palette was actually an exchange I did for a brown toned palette that I really didn't get much use out of.  Thank goodness Nordstrom has an awesome return policy!
I don't have a lot of luxury items in my makeup collection but it is nice to acquire a few pieces when you can.  The shadows are nicely pigmented and very blendable.  I wouldn't go as far as to say they are the most pigmented shadows I've used as I feel shadows like Wet N Wild and Inglot which are much less expensive produce wonderful color payoff.  I noticed barely any fallout though, but I really don't find fallout a huge problem anyways as I figure you just clean it up. lol 🙂
When deciding what palette I should exchange it for I noticed immediately that Dior really doesn't have a lot of matte shadows in their collection.  Everything pretty much has a slight shimmer with the exception of one palette which was a brown toned one.  Admittedly, I did feel little more "fancier" wearing Dior on my eyes today.