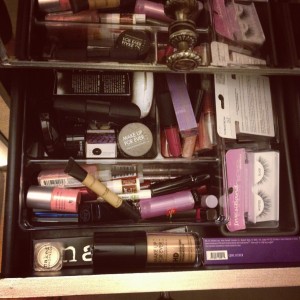 Hello beauties! If any of you out there are anything like me, you read beauty blogs, watch YouTube videos and get the news on any wonderful new beauty products, collection launches and new trends.  Then all of the sudden you have the urge in your gut to go out and buy those products that everyone is raving about.
A few weeks ago my friend Chie aka MakeupLand2011 on YouTube attended a makeup show and went a little overboard on purchases and upon leaving the event I suggested that we go on Project 10 Pan (P10P).  For some of you who don't know what P10P is, the concept was created by a fellow YouTuber who forced herself to finish 10 beauty products before buying anything else.  It's a great concept but if you are anything like me, makeup buying can be addicting and impulsive.
So needless to say me and several other YouTube friends have bonded together and have supported each other to go on a NO BUY on makeup.  I've been slightly bummed but realized one thing, for me, the desire to buy makeup is sort of like a craving.  When something catches your eye, you can't stop thinking about it, but with time if you ignore the craving the desire will come and go and you'll find something else to crave.  lol.  For example, I was SUPER sad last week to pass up the MAC Reel Sexy release.  Oh….the gorgeous lavender and coral lipsticks…sob…But after the launch and torturing myself by watching peoples haul videos and blog posts I realized most of the products I wanted I already have similar colors for.
This P10P experience has really helped my pocket book and also allowed me to focus on the products that I already have.  Since I am not buying and going through several new products I have already been formulating in my head product reviews I can do seeing that I instead of buying I am focusing on using what I have.
Any by the way, it's already been 3 weeks and I have not used up one thing 🙁  Oh well….Has anyone gone on a "NO BUY" on beauty products?
Please note:  If you are not a makeup junkie this whole thing may sound crazy to you lol…
A view from one of my makeup drawers
Hope you are having a great Wednesday! xo