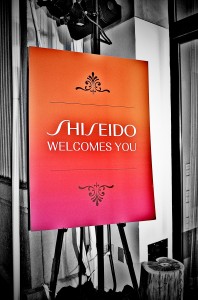 I had the wonderful honor of attending the Shiseido Benefique launch last night at the Sofitel Hotel in Beverly Hills. Shiseido has been a leader in the cosmetics and skincare industry for the last 140 years.  They are in the process of launching their Benefique collection targeted for women in their 20's and 30's who are looking to address skincare issues such as dryness, dull skin, blemishes, discoloration and fine lines.  
If you are familiar with their skincare lines, I believe this line serves the same market as their Skincare line, however what differentiates this line is the corrective and restorative benefits that the Skincare line does not address.  Stop by their website to learn more about their current skincare systems: http://www.shiseido.com/skincare/skincare,en_US,sc.html&fromTopNav
I tried out the tester products and as expected, the scent of products were very pleasant with a flowery undertone.  We had the opportunity to meet and listen to Shiseido's top marketing executives and their spokesperson.  Here are some photos from the event.
This was a wonderful evening of mixing, mingling and product testing.  Shiseido never fails to impress, for more information on the Benefique line please check out their website for product information and where to buy:  http://www.shiseidobenefique.com/
Have you ever tried any Shiseido products?