If you are like me and have eyebrows that don't grow in certain places than you will understand how important a stay put eyebrow pencil is.  I envy people who have thick gorgeous eyebrows with a beautiful arch-I have neither.  I inherited this quirky feature from my mom where my eyebrows are short and they don't have a tail to complete the arch.
I remember several years ago at a Nordstrom Trend Show the counter person was lecturing me about over plucking my eyebrows assuming my lack of eyebrow hairs was due to over plucking.  I had to firmly tell them that they just don't grow! I sulked about this for a while, however because of this I am always on the lookout for a good eyebrow pencil that doesn't fade or rub off.
Believe it or not, I haven't found a whole lot of options for those who need to "draw in" their eyebrows.  Many of the eyebrow products are geared to "filling in" eyebrows.  The only problem that I have run in to is that eventually the product will rub off if you change clothes, accidentally rub your face or even take a nap.
For several years I have used MAC's eyebrow pencil in the color Stud.  This product is a slim retractable self sharpening pencil that allows you to easily fill in your eyebrows.  You need to be light handed with this product as it doesn't take much feathering in to darken the areas you need.  The only problem that I find that it doesn't stay well on the ends of my eyebrows where I draw them in.
Over a year ago I discovered Smashbox Brow Tech To Go at a Smashbox Master Class that I attended.  I was a tiny bit skeptical at first because of the design.  It is a chubby retractable pencil that has a flat angled applicator, similar to that of a small angled brush that you would use to fill in your brows with eyeshadow.  It took a little bit of time for me to get used to the applicator as I was accustomed to the tiny MAC pencil, however after using this for about a year on and off I have tagged this as one of my "holy grail" products.
The Smashbox pencil does not apply as heavy as the MAC liner so you have a little bit of leeway for mistakes.  As well, what's bonus for me is that this product is waterproof which helps fend off my disappearing brows.  It is more expensive than the MAC liner ($14) compared to $26, however the Smashbox pencil has twice as much product.
Here are some photos to give you a better idea of what the product looks like up close and when applied: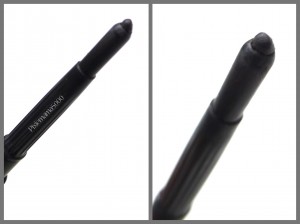 MAC Eye Brows pencil in Stud – Note the fine tip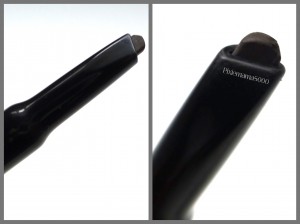 Smashbox Brow Tech To Go in the color Brunette
Note the angled flat tip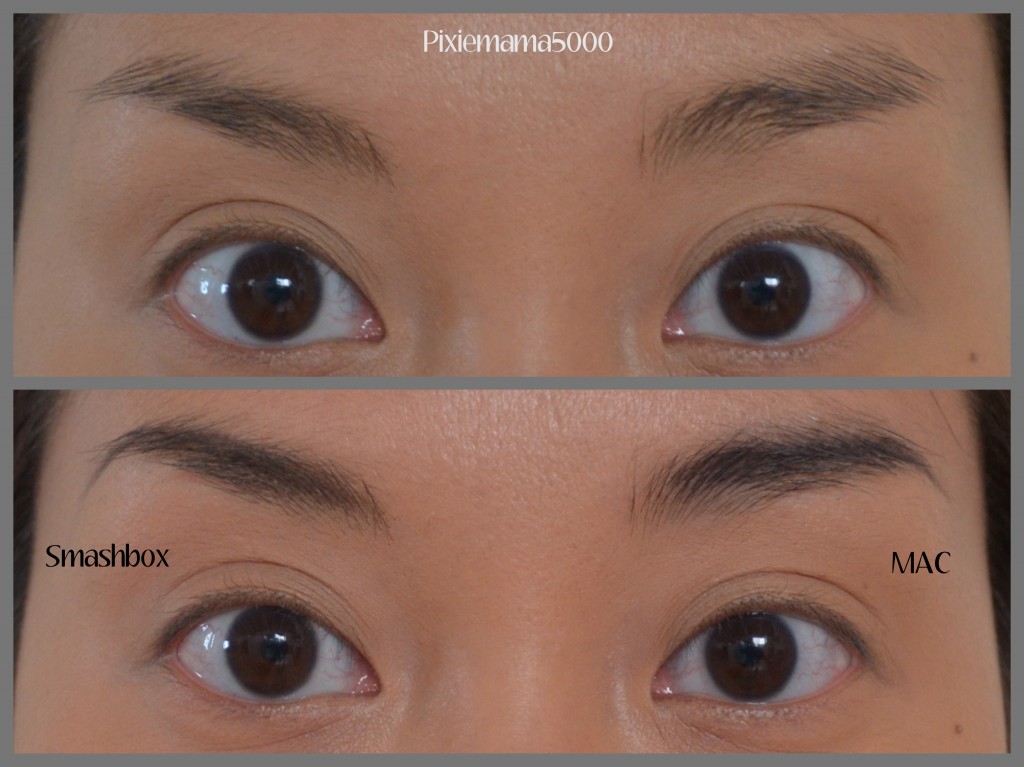 Before and after photo using Smashbox on the left and MAC on the right
 As you can see from the photo the MAC pencil appears darker than the Smashbox pencil.  As mentioned, the MAC product applies darker requiring you to use very light strokes.  After studying the products side by side I think the Smashbox pencil produces a more natural look.  I forgot to mention that the Smashbox pencil has a tiny brow gel with a spooly applicator that I don't really use that much.  Do you have any good waterproof eyebrow products you could suggest? I am always up for trying new things.  Thanks for reading!