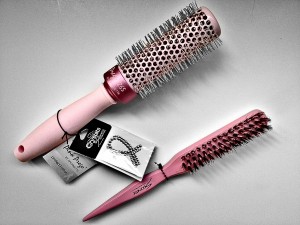 Welcome to my new blog! To all my old blog followers you will notice that I do have a new layout and although it should be seamless, I now have a new domain name.  I moved out of blogger into my very own website.  I am really excited about this! And onto more exciting things, I do have a giveaway for you.  For some of you that follow me on YouTube, one of my very first videos was a "Come Shop With me at Ulta" video which unusually has been one of my most successful videos.  In this video I made my very first purchase of what has become my "Holy Grail" brush, the Little Wonder Brush. Check out the video below:
http://www.youtube.com/watch?v=aXE0E0UkY8k
In honor of breast cancer awareness month Spornette has released pink limited edition brushes of their two popular collections, the Little Wonder Brush and Prego Brush.  Spornette will donate a portion of the sale of the brushes to the Breast Cancer Research Foundation.  These brushes can be found for a limited time at Ulta and Sally Beauty Supply.
Check out these beauties, who doesn't love anything pink?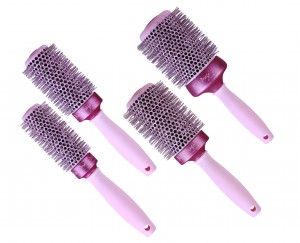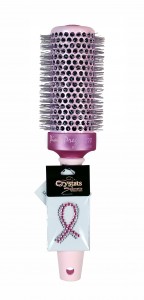 I am excited to be hosting a giveaway for these lovely brushes on my blog and my YouTube channel.  The rules will be simple, I will be giving away 4 brushes total – (2) winners will be chosen through my rafflecopter entries and (2) will be chosen through my YouTube entries.  And you will have plenty of extra ways to win.  Be sure to enter through rafflecopter so that your entry will be registered!
Rules:
Enter a comment saying which brush you want
Follow my blog via the Orange RSS Feed Button located on the right sidebar under the "Follow Me" area
"Like" Spornettes Facebook Page saying Pixiemama5000 sent you
http://www.facebook.com/pages/Spornette-International/126555314241
Giveaway will end Oct. 18, 2012, 10PM Pacific Standard Time
Giveaway is domestic only (I'm sorry, I will have other international giveaways soon)
Must be 18 or older or have parents permission
Other ways to enter:
"Like" my Facebook Page and mention you want to be entered in Spornette giveaway on my wall
http://www.facebook.com/Pixiemama5000
Follow me on Twitter and tweet the giveaway link use the hashtag #Pixiemama5000SpornetteBCA
http://ja.twitter.com/Pixiemama5000
Follow Spornette on Twitter and tweet the giveaway link use the hashtag #Pixiemama5000SpornetteBCA
http://twitter.com/spornetteintl
Disclosure: I am not compensated in any way for this post.  Products were provided for review purposes.
Enter via Rafflecopter!